Adrian Buchan gently closes the door to dim the hubbub from his pre-school-aged kids. As one of the longest-serving competitors on the WSL's championship tour, behind only Kelly Slater, he had wanted 2020 to be a world title year. But the pandemic has limited him to school runs and staying in one place for more than a fortnight at a time.
"I think life isn't that different, it's just that I'm not going away every couple of weeks with my coach and competing in Bali or Brazil or South Africa," he says.
"My eldest daughter started school this year and I guess in a way it was kind of fortuitous for us to have a year at home and be a little bit more grounded. Career-wise for me, I guess if this had happened when I was a little bit younger, it probably would have affected me more."
This is a hallmark of the Australian known as "Ace" to surfing fans worldwide: imperturbable, centred, thoroughly nice – not what might be considered traditional surf star material. But, even at 37 years old, he is also regarded as one of the most technically excellent surfers in the world, one who has performed consistently well on the Championship Tour since his rookie year in 2006.
In Buchan, a naturally disciplined and clean image has combined powerfully with a strong sense of social justice, leading him to admire the athlete activist in figures such as LeBron James, Adam Goodes and David Pocock. He recently won an award from the World Surf League for his ocean advocacy, donating the $25,000 prize money to the Climate Council.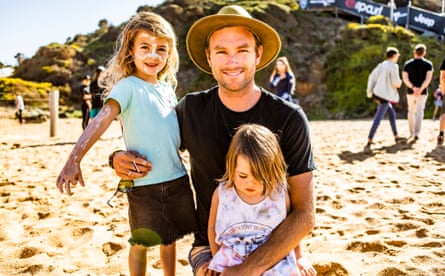 Adrian Buchan takes part in the Wathaurong traditional Welcome To Country ceremony ahead of the 2019 Rip Curl Pro at Bells Beach.

Photograph: Kelly Cestari/WSL/Cestari/Getty Images
Accepting the inaugural award, he said: "I feel a great sense of responsibility, even urgency, to use my platform beyond the jersey to try and inspire positive change. Proud to be part of a broader group of athletes across many sports and spanning the globe who have jumped off the fence and are standing up for the things we believe in."
This social conscience he believes came from his parents, who lived through the worst of South Africa's apartheid era before migrating to Australia. His father was a school teacher during the Soweto uprising of 1976, when police attacked thousands of students, killing many. "They were seeing a lot of injustice," he says. "They were thinking about starting a family. Luckily they were accepted to move to Australia and started a new life here."
'The science is super clear'
Foremost on Buchan's conscience right now is Australia's "gas-led recovery", a vision that pins the country's post-Covid revival on the expanded use of the fossil fuels.
"The interest of fossil fuel in Australian politics is becoming something of an international joke," he says. "It's fine for us to kind of sit back and shake our heads at what's happening with, say, Donald Trump in America, but people are doing the same [here] … the influence of fossil fuel in our politics, it's just crazy. You have a government in power that is picking and choosing when it listens to the science.
Buchan accepts not everyone in the WSL camp agrees with his views on the climate crisis.

Photograph: Matt Dunbar/WSL/Dunbar/Getty Images
"Renewable energy prices are low – there's non-fossil fuel energy storage options available. Gas just isn't a transition fuel that's going to lead to a safe climate. I feel like that ship's well and truly sailed … I think switching to renewables rapidly is the only responsible path. The science is super clear."
Closer to home, Buchan has lent his voice to oppose renewed plans to drill for oil and gas in the Pep 11 region that stretches from the waters off Sydney in the south to the central coast and Hunter region in the north.
"I think there's going to be a lot of community action in the coming months if things heat up with Pep 11 because we certainly don't want to see gas rigs off our coast, and that's a real possibility."
Into the wilderness
Pre-Covid, Buchan visited an area at the heart of the climate debate, spending a week in Tasmania's Tarkine wilderness, which includes precious yet largely unprotected rainforest, with Greens senator Peter Whish-Wilson to make a two-part documentary for WSL Pure, the philanthropic arm of the surf league.
"That was hugely eye-opening for me to go and spend that time and do that, and also just to be able to get your hands dirty and be on the frontline," he says. "I think you can make much more of a difference."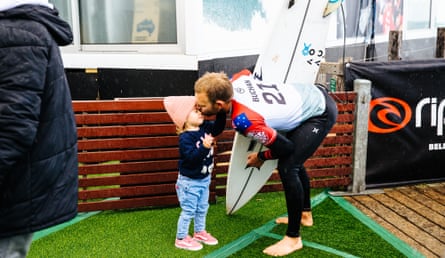 Last season, Buchan toured with his wife, Beck, and their three children: Ruby, six, Indigo, three, and one-year-old Harley.

Photograph: Matt Dunbar/WSL/Dunbar/Getty Images
By partnering with local…


Read More: Surf star Adrian Buchan: 'Australia's record on fossil fuels is an international