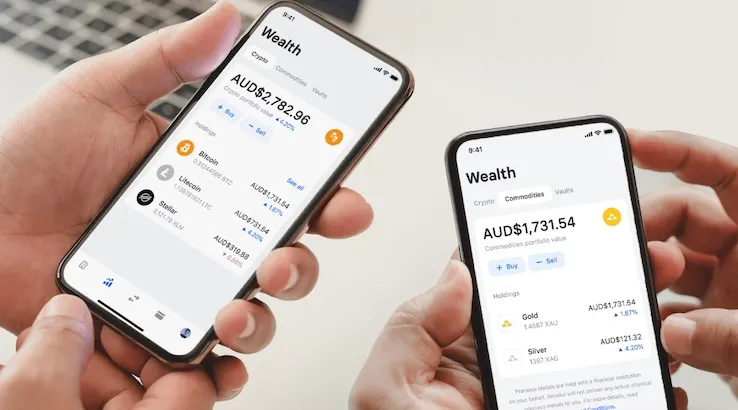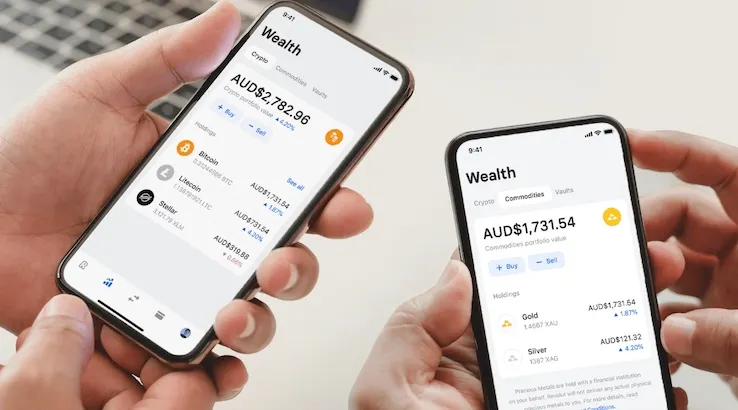 Customers will be able to buy and sell precious metals from just $1 on their mobiles.
European fintech Revolut has launched silver and gold trading to Australian users starting from this week. While the feature went live earlier this year in overseas markets, this is the first time Australians get access.
The neobank officially opened its doors to Australians in August this year after trialling a beta version to limited customers (including Finder's fintech editor). While still relatively unknown here, the London-based fintech is a big deal in Europe, with more than 12 million global customers.
Revolut is best known for its multi-currency account feature, where users can hold and exchange dozens of global currencies, but it also offers transaction accounts, a Visa card, share trading and cryptocurrencies.
The new commodities trading feature (live from Wednesday) will allow users to buy, sell and swap gold and silver bullion for as little as $1 per trade.
"We're building what we like to call a 'Financial Super App'," Matt Baxby, CEO of Revolut Australia, told Finder, describing it as "a hub" where people can manage every aspect of their financial life.
"What drives us to build towards this vision and constantly deliver new features is the desire to give our customers the experience they deserve: one that brings them real dollar value, is designed to be easy to use, gives them greater transparency and brings together all aspects of their financial life."
How does it work?
Revolut sources its precious metals via the London interbank market for precious metals. However, although you're buying and selling physical gold and silver, you never actually see any of it. Instead, your metals are kept in the vault of a third-party financial institution.
This makes it a little different to online bullion dealers where the gold is usually shipped to you when you purchase it or kept in a vault for a storage fee.
It also shouldn't be confused with commodities trading apps such as eToro or CMC Markets, where precious metals are traded as derivatives contracts rather than physical metals.
It's worth noting that unlike cash currencies held in Revolut accounts, its commodities service is not regulated in Australia and is not protected by the Bank Guarantee.
What are the fees?
Currently, Revolut offers three account types, Standard, Premium and Metal, each with a monthly subscription fee of $0, $10.99 and $29.99.
While bullion prices are based on live market data, you're charged a margin on each gold/silver transaction that will depend on what type of account holder you are.
Standard users are charged a 1.5% margin on each transaction or 2% if you exchange the equivalent of $9,000 or more in a month. Premium and Metal account holders are charged 0.25%.
There are no security or storage fees when buying metals through Revolut.
How does it compare?
While there are dozens of bullion dealers operating in Australia, there are only a few gold-trading apps that streamline the process. Two other apps offering similar deals are SendGold and Perth Mint's GoldPass.
SendGold charges a 1% trading fee (capped at $10) for every gold transaction along with a 0.1-2.6% processing fee depending on the payment option used.
GoldPass has a tiered fee system between 0.2% and 1%, where the highest rate is applied to transactions of less than $10,000 and the lowest rate applies to transactions of more than $1 million.
Revolut is the only app out of the three offering silver, cryptocurrency and global currency exchange services.
What's next?
Revolut says cryptocurrency trading is also due to launch this week while share trading is still in the works but coming soon.
"Our focus is still to bring all the features our European customers love to Australian shores," said Baxby.
"We have a very full pipeline of exciting feature launches in the near future, including an app focussed on younger users to help parents teach them good financial habits, a way for our customers to give back to causes they care about and added perks that create a more rewarding experience for our customers every time they shop. Beyond that, we're also scoping a feature that lets customers hold and trade US stocks using fractional ownership and enabling our customers to take full advantage of open banking through the consumer data right."
Video review of Revolut Australia


Read More: Revolut launches gold and silver trading in Australia