The weekly crude oil inventory cycle is complete and supplies continue to shrink. According to the U.S. Energy Information Administration (EIA), crude oil stocks-on-hand decreased by 1.001 million barrels for the week of October 16. While not a huge drawdown, it looks like oil demand is stabilizing as we move deeper into the fall season.
The Weekly API And EIA Reports Are In…
October has brought surprisingly strong demand for crude oil. Last week reinforced this idea, as the API and EIA numbers came in as expected:
Event                                                       Actual              Projected            Previous
API Crude Oil Stocks (Oct. 16)              0.584M                  NA                    -5.420M
EIA Crude Oil Stocks (Oct. 16)             -1.001M               -1.021M             -3.818M
All in all, these figures suggest a relatively "stable" North American crude production environment. Of course, one has to wonder whether demand is really picking up or output has crashed due to the COVID-19 downturn in fracking. For now, energy traders are skeptical and have sold off December WTI crude oil futures. At press time (1:30 PM EST), prices have fallen beneath the $40.00 handle.
December WTI Futures Plunge Beneath $40.00
It's been a rough day for December WTI futures, with prices plunging nearly $2.00 per barrel. It appears that traders and investors are biased to the short side of this market as 2020 winds down.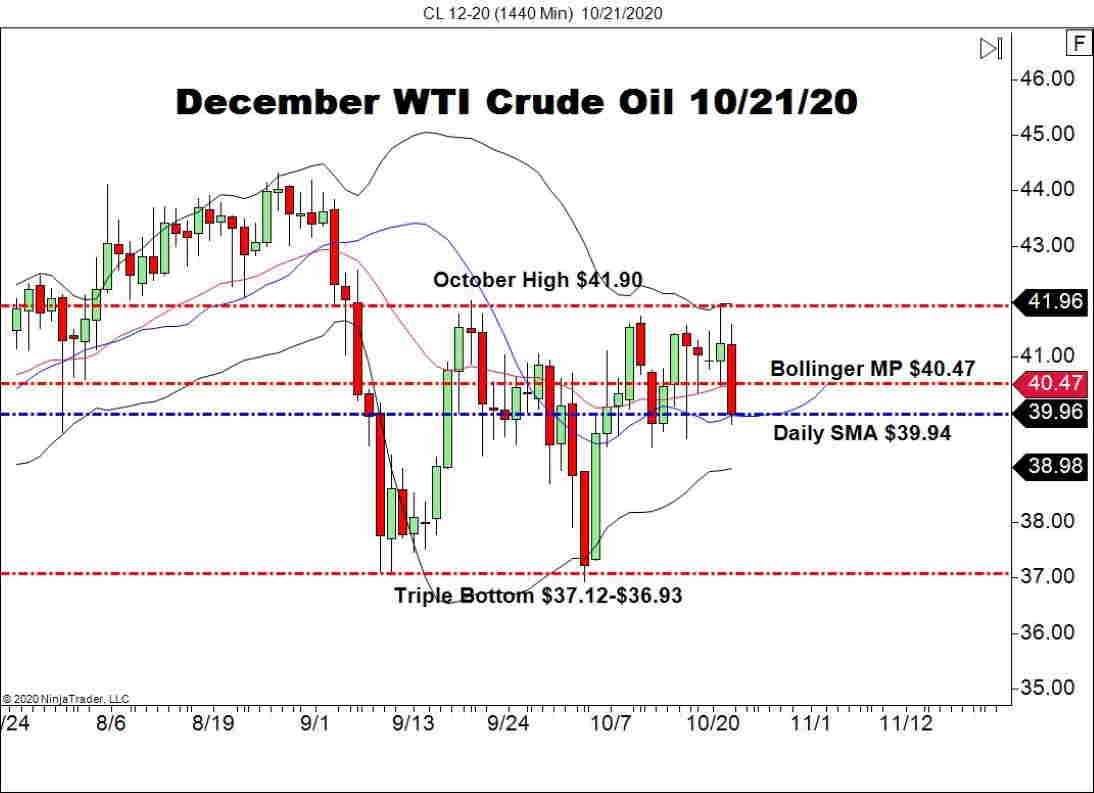 Overview: While there is a strong case to be made for bearish crude oil until at least spring 2021, WTI pricing isn't all that weak. Prices remain in the $40.00 area as energy traders deal with the coming U.S. election, USD volatility, and pending OPEC+ production cuts. In reality, oil valuations could be much lower than they currently are.
Today's EIA report suggests that demand is returning to the markets amid this year's COVID-19 economic turbulence. Ultimately, only time will tell if this assertion is correct. However, economic activity is picking up and oil supplies are decreasing ― both are good signs for energy bulls.




Read More: EIA Reports 1 Million Barrel Draw On Supply