For the first time in history, December E-mini DOW futures have hit the 30,000 psyche level. Heavy bidding ensued during the 6:30-7:00 AM EST half-hour as news from Pfizer and BioNTech suggested that a COVID-19 vaccine is on the way. Sources close to the clinical trials reported that the vaccine was 90% effective in the first 94 patients it was tested on.
U.S stocks have reacted positively to the news, led by huge gains in the DJIA DOW (+1200), S&P 500 SPX (+100), and NASDAQ (+72). In addition to Pfizer's announcement, Democratic challenger Joe Biden was declared the new "president-elect" last Saturday. The announcement came as little surprise, as most vote counts favored Biden as of business close Friday. 
At press time, the Trump administration is legally contesting the election results in multiple states. Also, official ballot tallies continue in Arizona, Philadelphia, and Georgia. Subsequently, the razor-thin margins in these states may trigger automatic recounts. So, while Biden is the new president-elect, the final decision remains weeks out.
For December E-mini DOW futures, vaccine hopes are dominating sentiment. Let's take a look at the daily technicals put today's bullish breakout into context.
30,000 For December E-mini DOW Futures
Today's breakout was an indication of just how much uncertainty was weighing on U.S. stocks. Now, with political and COVID-19 uncertainty residing, December E-mini DOW futures are entering uncharted waters.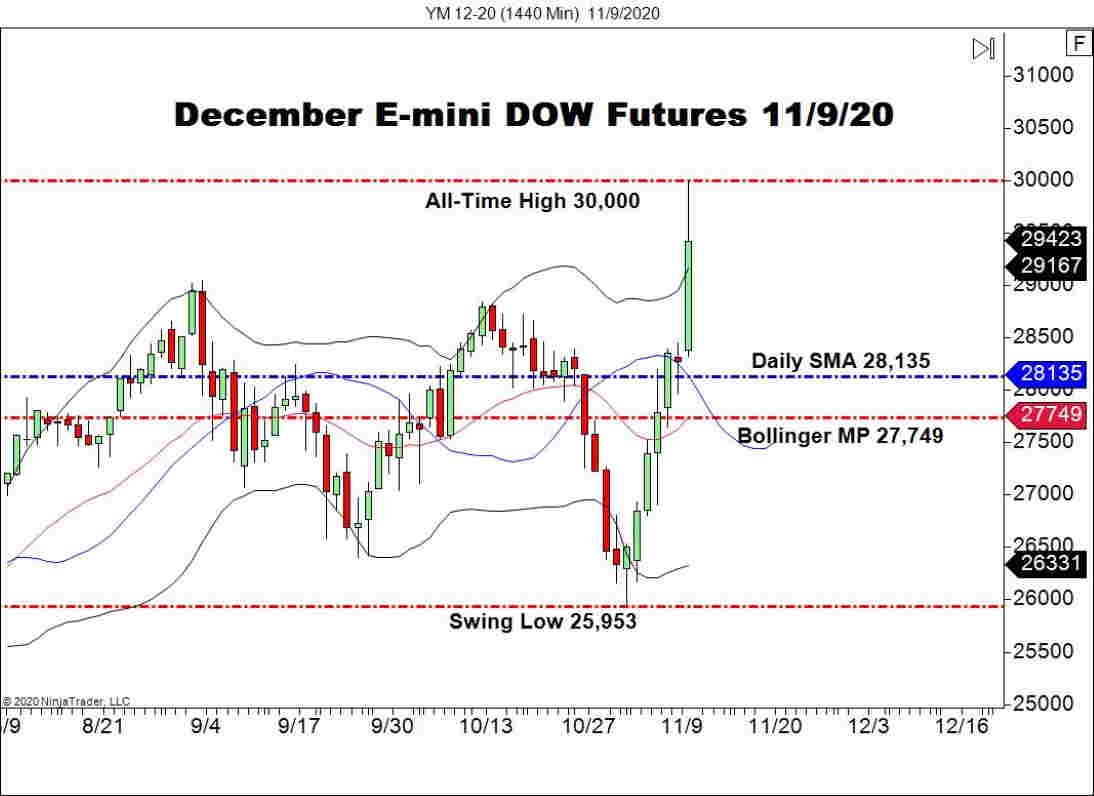 Overview: As of now, U.S. stocks have pulled back significantly from this morning's highs. For December E-mini DOW futures, it looks like consolidation around the 29,500 handle is a likely scenario for the rest of the day and maybe the week. Nonetheless, the trend is definitely up and sentiment toward risk assets is extremely positive.