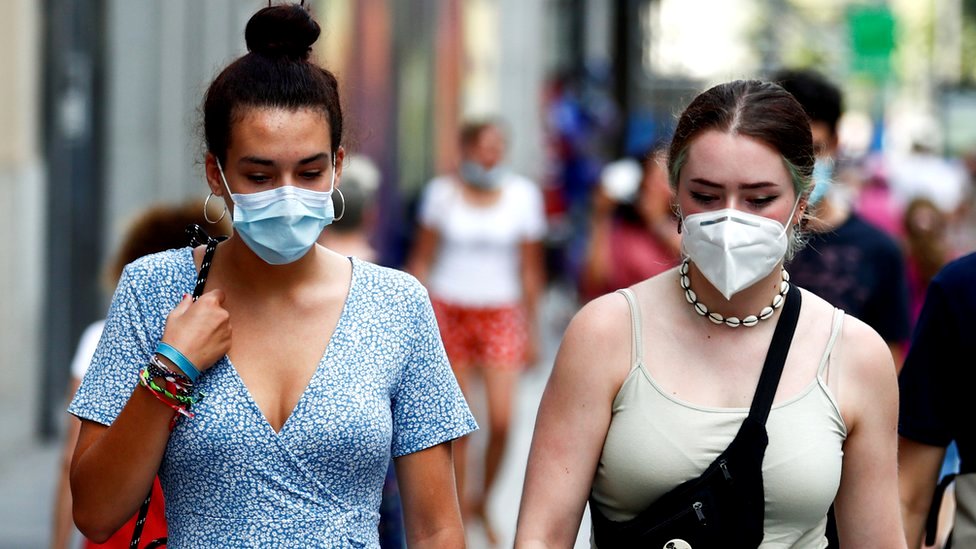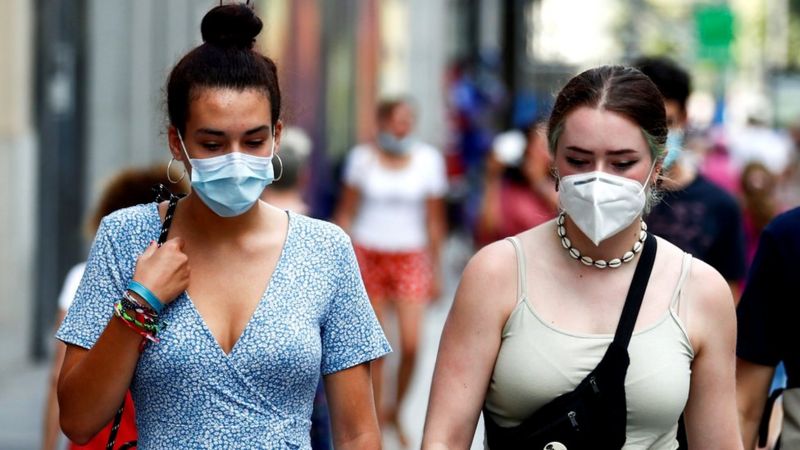 Spain has declared a national state of emergency and imposed a night-time curfew in an effort to help control a new spike in Covid-19 infections.
Prime Minister Pedro Sánchez said the curfew, between the hours of 23:00 and 06:00, would come into force on Sunday.
Under the emergency measures, local authorities can also ban travel between regions, he said.
Mr Sánchez said he would ask parliament to approve an extension of the new rules from 15 days to six months.
Spain was hit hard during the first wave of the pandemic earlier this year and imposed a much more restrictive lockdown – one of the toughest in the world.
Like many other European regions, however, it has been hit by a second wave of infections.
In Italy, new restrictions were also announced on Sunday. The government said the steady rise in cases there was causing a huge strain on the country's health services.
What are Spain's emergency measures?
Mr Sánchez said different regions would have up to an hour of flexibility if they wanted to modify the duration of the overnight curfew.
He said restrictions on movement between districts would be determined by regional leaders and was likely to be dependent on work and medical needs.
The new measures announced include a limit on public and private gatherings of different households to a maximum of six people.
"The situation we are going through is extreme," Mr Sánchez said in a televised address on Sunday, adding: "It is the most serious in the past half century."
More than half of Spain's 17 regions had been calling for tighter restrictions, and the latest measures will apply to all regions except the Canary Islands.
The same level of emergency was introduced during the first wave of the pandemic in April.
Spain has passed one million cases since it began and more than 37,000 people have died.
What is Italy doing to curb infections?
Italy is shutting cinemas, swimming pools and gyms from Monday.
Bars, restaurants and ice-cream stands will have to close by 18:00, but shops and the majority of businesses will remain operating.
Italy's measures were agreed between Prime Minister Giuseppe Conte and regional leaders.
"We think that we will suffer a bit this month but by gritting our teeth with these restrictions, we'll be able to breathe again in December," Mr Conte told a news conference on Sunday.
The prime minister has said he does not want to repeat the national lockdown imposed during the first wave in March and April because of the economic damage caused.
Under the new measures, the bulk of secondary school teaching will be conducted online instead of in the classroom.
The Italian move comes amid demonstrations in Naples, and then Rome, against stricter coronavirus measures, including curfews announced last week.
Saturday saw a new daily record of cases in Italy of more than 19,600. The number of deaths was 151.
What is the latest from elsewhere in Europe?
Covid case numbers, hospital admissions and deaths have been increasing across Europe.
According to the latest data from the World Health Organization (WHO), Sunday was the third consecutive day to see a record high in reported infections – with 465,319 cases confirmed.
Some of the latest developments across Europe include:
Bulgaria's Prime Minister Boiko Borisov confirmed in a Facebook post on Sunday that he had tested positive for Covid-19. He said he was experiencing mild symptoms and was self-isolating
In the Czech Republic, where new lockdowns came into force this weekend, 12,472 new Covid cases were reported for Saturday – the country's highest daily tally for a weekend day
Marking another record, new confirmed cases in the Netherlands increased by 10,203 over the latest 24-hour period. This is despite new measures – including the closure of bars and restaurants – imposed this month
Total reported cases in Russia have now surpassed 1.5 million – but the mayor of the worst-hit city, Moscow, said that while "there is still growth… it is slower"
In Germany, where case numbers have risen sharply in recent weeks, the building belonging to the country's public health body – the Robert Koch Institute – has been vandalised. At least one…


Read More: Covid: Spain imposes national night-time curfew to curb infections