The AUD/USD pair closed at 0.72831, after placing a high of 0.72890, and a low of 0.71447. The currency pair surged to its highest level since September 21 on Thursday, amid a high selling bias surrounding the US dollar. The greenback dropped on Thursday, due to the rising hopes for Biden's victory in the US presidential elections, as most of the votes so far have come in his favor, and against Donald Trump. However, Trump has filed lawsuits for recounting from the key states, which has added further weakness ton the US dollar, pushing the AUD/USD pair even higher.
On the data front, at 17: 30 GMT, the US Challenger Job Cuts for the year came in at 60.4%, in comparison to the previous 185.9%. At 18:30 GMT, the Unemployment Claims for the previous week showed a rush to 751K against the anticipated 740K, weighing on the greenback and adding to the gains for the AUD/USD pair. The Prelim Nonfarm Productivity for the quarter rose to 4.9%, against the anticipated 3.6%, and also put pressure on the US dollar, which further strengthened the AUD/USD pair. At 18:32 GMT, the Prelim Unit Labor Costs for the quarter came in at -8.9%, against the projected -10.0%, likewise supporting the US dollar.
From the Australian side, the Trade Balance in September rose to 5.63B against the expected 3.70B, supporting the Australian dollar and adding gains to the AUD/USD currency pair. Furthermore, the Federal Reserve kept its interest rates at 0% – 0.25%, and the asset purchasing program remained at the same level. Fed Chair Jerome Powell also made some dovish comments, which weighed on the greenback on Thursday, ultimately pushing an aggressive rally in the AUD/USD pair.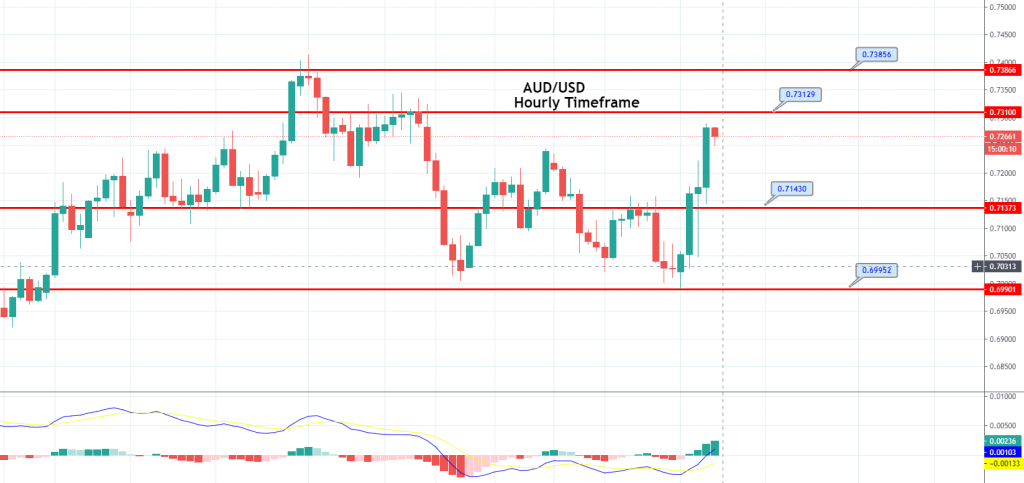 Daily Technical Levels
Support              Resistance
0.7188                0.7333
0.7093               0.7385
0.7042               0.7479
Pivot Point:      0.7239Trading in the AUD/USD was sharply bullish at around 0.7262, with an immediate resistance at 0.7282 and 0.7335. In the daily timeframe, the AUD/USD has formed a huge buying candle, indicating a strong bullish sentiment among investors. Meanwhile on the lower side, support could be found at around the 0.7230 level today. A bullish bias dominates the market. Good luck!




Read More: Bullish Flight in AUD/USD – Weaker Dollar Continues to Play!