The sentiment is definitively "risk-on" heading into the weekend break. At the midway point of the U.S. session, the DJIA DOW (+248), S&P 500 SPX (+20), and NASDAQ (+46) are all in the green. Safe-havens are flat despite rising COVID-19 cases, new lockdown restrictions, and setbacks in vaccine clinical studies. Traders and investors appear to be pricing in a possible U.S. government stimulus deal being reached after today's closing bell.
This morning's big economic story is the rally in September's Retail Sales figures. Here's a quick look:
Event                                                                 Actual                   Projected            Previous
Retail Sales (MoM, Sept.)                                  1.9%                         0.7%                     0.6%
Retail Sales ex Autos (MoM, Sept.)                  1.5%                         0.5%                     0.5%
Following the COVID-19 shutdowns of last spring and summer, major uncertainty surrounded the future of the retail industry. Now, those questions are being answered. Today's robust Retail Sales numbers from September show that consumption is up, a key driver of any economic recovery.
In addition to strong Retail Sales figures, the University of Michigan Consumer Sentiment Index (Oct.) was released to the public. The UM number came in at 81.2, above projections (80.5), and the previous release (80.4). Once again, this is a positive sign for the economy as public sentiment typically drives consumption. While there is a long way to go in the COVID-19 recovery, today's figures are great for risk assets.
On the safe-haven front, there isn't much going on. However, the USD/CHF remains within striking distance of that key 0.9000 handle.
Safe-Havens Slow Going Into The Weekend
The USD/CHF has firmed up this week, consolidating in the 0.9150 area. Right now, forex players appear content to wait and see what happens with U.S. government stimulus before committing to this market.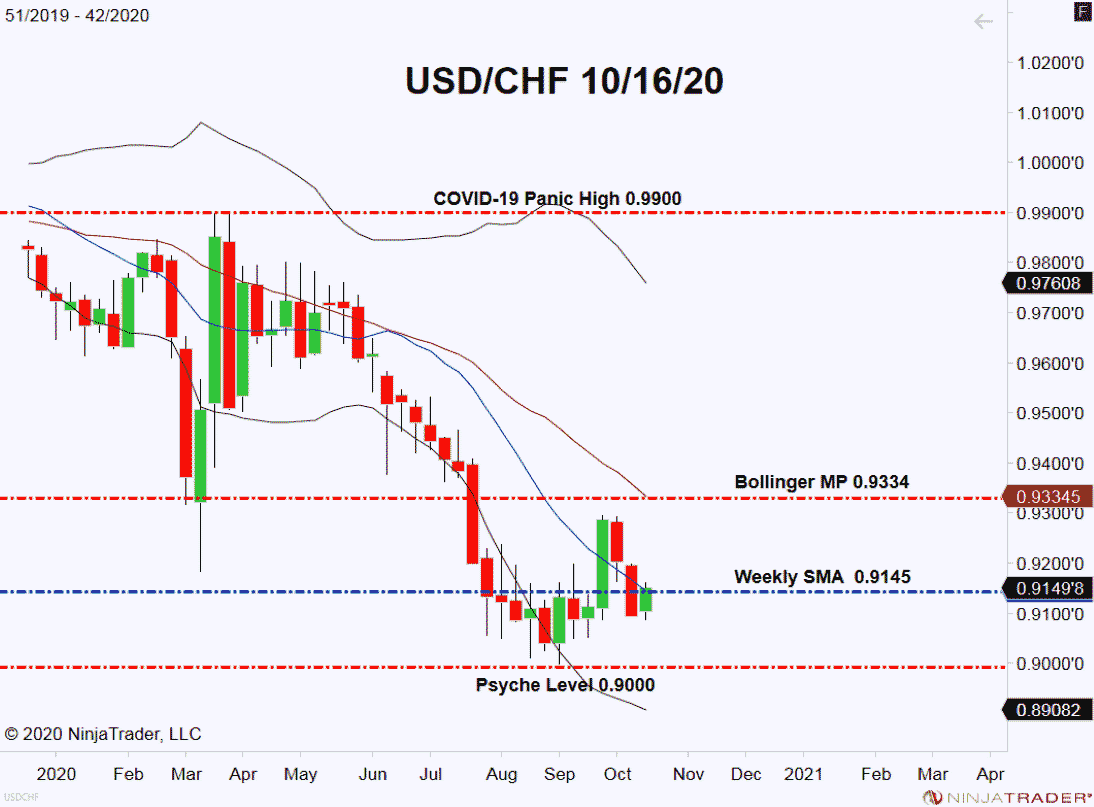 Here are the levels to watch for the Swissie going into next week's trade:
Resistance(1): Weekly SMA, 0.9145

Support(1): Psyche Level, 0.9000
Overview: At press time (12:15 PM EST), safe-havens are down modestly vs the USD. Gold is off about $5 per ounce, and the USD/CHF is up modestly. If these assets flatline ahead of the weekend break, then equities may be in line for more gains as next week's trade gets underway.




Read More: Safe-Havens In A Holding Pattern Ahead Of Weekend Break