US Market Wrap
US markets moved higher for another session, despite the fact we still don't have a clear winner in the US election.
While Biden is edging ever closer, things are coming down to the key swing states and there are really only thousands of votes separating the winner and loser.
Meanwhile, central bankers were busy overnight, with the FOMC leaving monetary policy relatively unchanged. While the BOE, added another round of stimulus, in a bid to help insulate the economy from the next set of lockdowns.
The Data Agenda
The focus today will still be on the election, but markets will certainly have one eye on the latest jobs data.
US non-farm payrolls are expected to come in with another 600K jobs created while the jobless rate should fall to 7.7%.
Risk assets are already seeing a strong bid at the moment, while the USD is soft and a good result would add to the risk trade.
The USD/CAD will also be looking towards the latest jobs number with 100K jobs returning in Canada last month.
Forex Signal Update
The FX Leaders Team hit 3 winners from 3 trades yesterday, in what has been a strong week or results to date, despite only limited trades.
Keep watching the forex signals page as there is a fair chance there will be some big moves to close out the week.
USD – Watching 
The Greenback has fallen away sharply and it has been a big contributor to the upside in the many of the majors.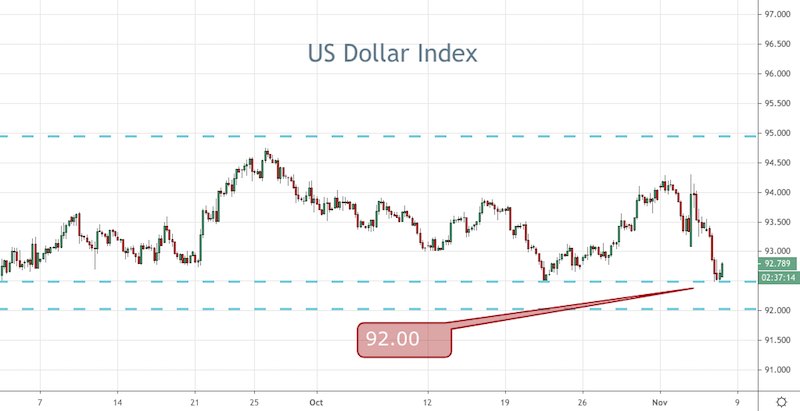 DAX – Pending Signal 
The DAX has rallied for another day, right back into that key resistance overhead. This has been a very nice technical move so far.
Cryptocurrency Update
BTC has seen a powerful move to the upside as we suspected might happen.
The fact that price held up so well and there was the bullish PayPal news, really was a good sign and when the risk trade got ignited, Bitcoin outperformed.
Price is honing in on $16,000 but in reality, we haven't seen this type level since 2018 when of course, BTC was up at that $20,000 level.
Anything can happen here, and I suspect we should remain bullish until proven otherwise.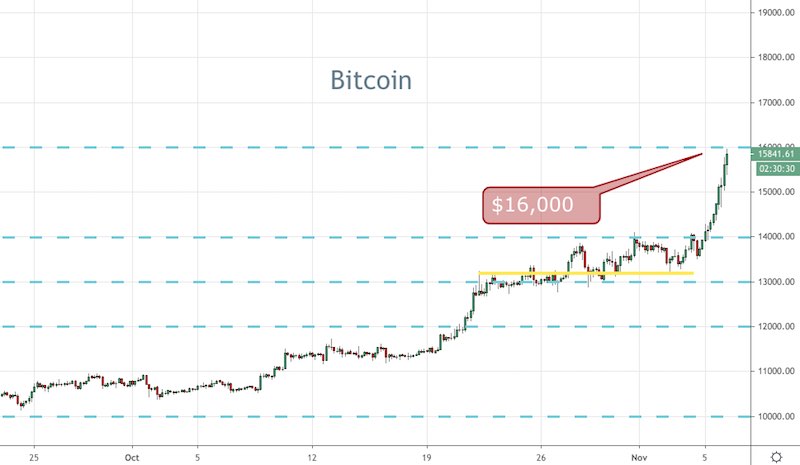 Read More: Forex Signals Brief for Nov 6: US Non-Farm Payrolls Ahead