Today has been an active day for FOMC Members, specifically Fed Chairman Powell, Vice Chair Clarida, and New York Fed CEO Williams. All in all, no major revelations were made in their comments. Nonetheless, the Greenback is having a rough session, taking steep losses vs the euro, GBP, and Swiss franc.
To lead things off, Fed Chairman Powell addressed cryptocurrencies and real-time payments as part of an IMF panel. Here's a quick look at Powell's key quotes:
"We [Fed] will have lots of conversations with industry and stakeholder engagement, and that'll help us in our work on digital currencies and cross-border payments."
"Difficult policy and operational questions" surround a USD digital currency.
"I actually do think this is one of those issues where it's more important for the U.S. to get it right than it is to be first."
In response to Powell's comments, the leading cryptos have put in a solid 24 hours. Bitcoin BTC has been the pace-setter, up 2.63% on the day. 
Aside from Powell's IMF engagement, the FOMC's Clarida and Williams also issued public comments. Today's dialogue echoed previous talking points regarding COVID-19 and uncertainty plaguing the global economic recovery. In short, it looks like the Fed plans to extend unlimited QE and continue calling for additional fiscal stimulus.
USD Index Plunges Toward 93.250 As FOMC Members Speak
December USD Index futures took a nosedive today, falling beneath the 93.500 handle. The bearish pressure is somewhat mysterious. However, it does suggest that the markets are pricing in more post-COVID-19 dollar devaluation stemming from dovish policy and added stimulus.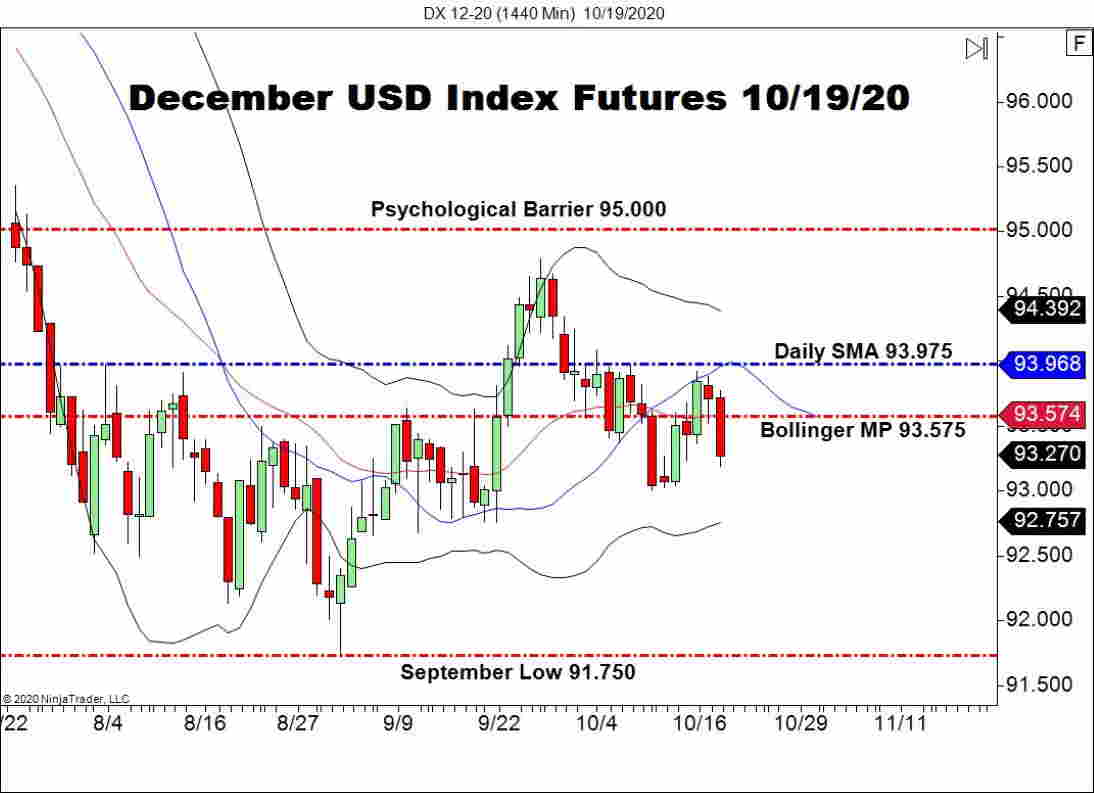 Overview: Until November's FOMC Meeting, it looks like negative sentiment will dominate the USD index. With economic growth moderate, inflation stagnate, and more fiscal stimulus likely, traders are making an about-face at the Greenback. Barring a surprise event restoring the dollar's March 2020 safe-haven status, the USD's strength is in question.




Read More: FOMC Members Speak, USD Index Plunges